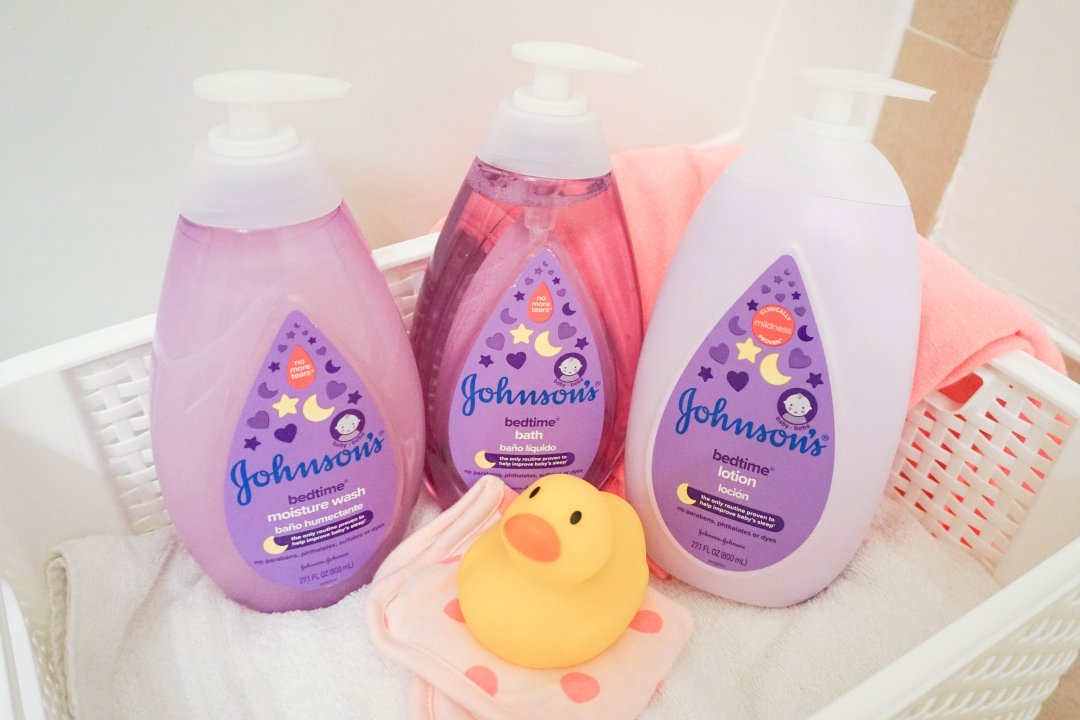 This shop has been compensated by Collective Bias, Inc. and its advertiser. All opinions are mine alone. #GetJohnsonsBaby #ChooseGentle #CollectiveBias
When we decided to start sleep training Riley, she was 6 months old – the same age we started to implement a bedtime routine. We thought it would help her to associate the routine with her bedtime, and sure enough, it did. Riley's now 8 months old, sleeping through the night, and mama's a happy camper.
So what does that bedtime routine look like? Here's a quick breakdown. I've always found these super helpful to read over, so if you have any specific questions about anything, please please please let me know!
Recommended Reading: FREE Start-A-Blog E-mail Course
Pre-Routine Setup
First things first, I like to start her bedtime routine with a bath. This normally happens anywhere between 8:00pm and 8:15pm since Riley goes down for bed at 9pm. Before I start her bath, though, I like to make sure I have everything laid out that I'll need for later. This helps a ton because trying to grab all the essentials with a squirmy baby in hand is a lot more difficult.
I grab a comfy footy pajama, an overnight diaper, her hairbrush, and JOHNSON'S® Bedtime Lotion. I lay these out on the changing table in her nursery and then I head into the bathroom.
Once in the bathroom, I grab a towel from the cabinet underneath the sink and I make sure I have plenty of JOHNSON'S® Bedtime Moisture Wash ready to go. I seriously can't tell you guys how good it smells, plus it's got no parabens, no phthalates, and it's hypoallergenic. AKA – good stuff for my baby girl.
Recommended Reading: Tips For New Moms – How To Survive The First 3 Months
Bath time For The Baby
For the longest time, I thought Riley would hate her baths. Boy was I wrong. This little baby LOVES bath time and it legit melts my heart. As soon as I bring her into the bathroom, a huge smile lights up on her face and I die a little on the inside. Just look at that face! How stinkin' cute is she?!
Anyway, to get her ready for her bath, I first place her on her towel on the floor and I take her clothes and diaper off. By this point she's kicking and shrieking (out of pure joy) and as soon as I get the water temperature right and fill her baby tub with a little bit of water, it's time for her bath.
Recommended Reading: How To Start A Blog – A Step-By-Step Guide (With Screenshots)
Washing The Baby
As a first time mom, it can definitely be difficult to figure out which products to use on your little one. Believe me,  it's rough. But the other day I was at Target (just about the best place in the world) and I decided to grab these new JOHNSON'S® products. They've been improved inside and out (love the new packaging, btw) – now with 50% fewer ingredients, more naturally derived, and the washes are so much creamier.
Needless to say, I love using these for Riley's bath time. I use all three of the products in the bedtime collection – the moisture wash first, and then I add the bath product.
That makes her baths a little longer, and I know she doesn't mind. I just let her sit there for a little while, playing with her ducky, and I just watch her – soaking in these precious memories that I'll treasure for a lifetime.
Recommended Reading: Financial Tips For New Parents
Getting Ready For Bed
Once she's had a chance to splash around in the tub, eventually, I have to take her out and get her ready for bed. I take her back to her nursery where I laid everything out earlier, and I put on her diaper. After that, little Riley gets a baby massage – what a life, right? I use the JOHNSON'S® Bedtime Lotion and she loves it!
In addition to the fact that I love how ginormous these bottles are, I choose to use JOHNSON'S® products because they have a commitment to safety and innovation – something that I admire. They listened to the feedback from parents around the world and used it to reformulate their products – inside and out – setting a new standard for gentle.
I don't know about you guys, but I'm all about that.
So once I'm done with her baby massage, baby girl gets into her pajamas and I brush her crazy hair.
She has a tendency to then reach for the bottle of lotion again, but I can't really blame her. I mean, who wouldn't want a massage every night before bed?
Time For Some Shuteye
Now that Riley's comfy and cozy, it's time for bed. At around 9pm, I feed her her last bottle of formula for the day (she takes about 5oz) and then I nurse her right before I put her in her crib. I absolutely treasure the time that I spend with her at night like this, and it makes me sad because I know it won't last much longer. I'm almost done weaning her (she only nurses in the morning and right before bed), so I'm really enjoying her bedtime these days.
So that's about it! That's baby's bedtime routine in a nutshell! Again – if you have any questions or need some advice, let me know in the comments!
Recommended Reading: Newborn Essentials
Oh, and if you're interested in trying these JOHNSON'S® products, on 8/26, there will be a Target in-store sampling of the Cotton Touch and Bedtime lotions. Go check it out and a coupon will be made available for shoppers!
Also, from 8/12 – 9/1, Buy 3 of these products at your local Target in-store or online here and get a $5 gift card. Woohoo!